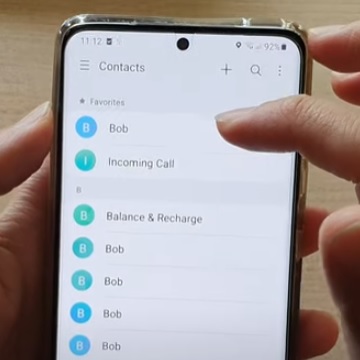 Adding a contact to favorites on a Galaxy S21 is quick and easy to do.
This includes the Samsung Galaxy S21 Ultra and Plus versions.
When a contact is added to favorites, the name and number will display at the top of the phone app contact list.
This makes it very handy to quickly dial a person who is frequently called instead of having to scroll down through a list of names.
How to Add a Contact to Favorites on Galaxy S21
From the home screen, scroll up, find, and select Contacts. (Contacts can also be found in the phone app)

Select the contact you want to save to favorites.

At the bottom left of the screen, tap on Favorites (Star button).

The name and number will now display in favorites from the phone dialer app.
Summary
The Galaxy S21 has many nice built-in features and options to manage contacts, including numbers and names.
One such handy feature is the ability to add a contact to favorites.
A contact, when added to favorites, will always display at the top of the list of phone numbers, making it quick and easy to dial.
This will be very beneficial to someone who has many contacts on their phone since the most called can be set at the top.
It can also help to separate out business contacts from family members and close friends since they will be in a new section of the smartphone.
A contact can also be removed from favorites at any time by selecting it and pressing the favorite star button again.
Removing a number from favorites is basically the same as adding it.
Have you had any problems when adding a contact to favorites with the Samsung Galaxy S21? Let us know below.