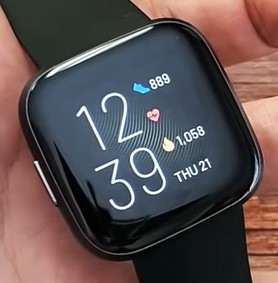 If your Fitbit Versa has a black screen and will not turn on, there are a few fixes that may get it working again.
Before buying a new smartwatch, try the simple suggestions below and see if you can get your watch back up and in working order.
You may need to repeat the instructions below several times before your smartwatch turns back on.
If you have a solution that has fixed a blacked-out Fitbit Versa that is not on the list below. Let us know in the comments secion.
How To Fix A Blank Screen On A Fitbit Versa
Press the Power Button Repeatedly


The power button can become stuck due to dirt or debris getting caught in it.

To get any debris out, press the power button multiple times, to dislodge anything that may have been causing the power button to become stuck.

Press and Hold the Power Button


Reboot the Versa by pressing and holding the power button. Press and hold down the power button until the Fitbit logo appears.

When the Fitbit logo appears, release the power button.

It can often take 15-20 seconds for a Fitbit Versa to boot back up.

Place Fitbit Versa in Charging Cradle


The watch may not have a good charge or be too low on power to start up.

Leave the watch in the charging cradle for 10-15 minutes or longer. Sometimes a long period of charging can help the Fitbit start working again.
Summary
We rely on our smartwatch for so many of our daily tasks. So when it stops working for no reason, it can be very annoying.
A smartwatch can freeze or stop working for any number of reasons.
For example, It may need an update; check your Fitbit app to make sure you have the most current version.
It may have been a software crash; you may have just downloaded an app that is not compatible with your Fitbit.
Whatever the reason, the simple solutions above may be able to get your Fitbit smartwatch back up and running in no time.
If you found the above solutions helpful or found an alternate solution to the problem, please leave a comment below.