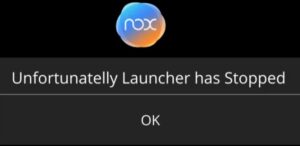 If you are using NOX Launcher or any Android emulator and get the error "Unfortunately NOX Launcher has Stopped," there are several fixes.
The main fixes include restarting your computer and freeing up resources by closing other programs.
Sometimes the simple fixes will work, but often they do not, and more resources need to be allocated to the NOX Launcher.
The best way to give the Launcher more resources is to set more Virtual Memory that it can use.
It is quick and easy to do with the steps below.
How To Fix "Unfortunately NOX Launcher has Stopped"
Open File Explorer and Right Click on This PC and choose Properties

Find and click Advanced System Settings

A System Properties box will open under the Performance section click on Settings

Click Advanced

In the Virtual Memory section choose Change

Turn off and Uncheck the box "Automatically manage paging file size for all drives"

Turn on the Custom Size

Insert the Recommend Value into the Initial Size box

Open the calculator and multiply the Recommend value by 3. In this example the Recommend value is 2932, so 2932 X 3 = 8796.

Once the values are entered click OK and test the NOX Launcher.
Summary
Using an Android emulator such as Nox can be very handy in many scenarios, from gaming to running apps.
Unfortunately, emulators require lots of resources to operate and can bog down a PC.
The best way to get around this is to manually set the resources allowed for the emulator in virtual memory.
Emulators notoriously need more virtual memory to run and often need to be adjusted manually to get the best results.
It is easy to set the virtual memory for the Nox emulator to see if the error clears it may be having.
Have you had problems with NOX Launcher? Let us know your thoughts below.