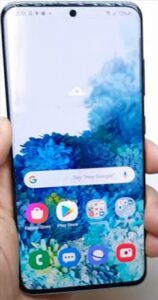 The Samsung Galaxy S22 has a Blue light Filter option that may help individuals with eye strain.
The blue light filter feature allows you to reduce the amount of blue light you are exposed to on your screen during the evening hours. It may also help decrease eye fatigue and aid in better sleep.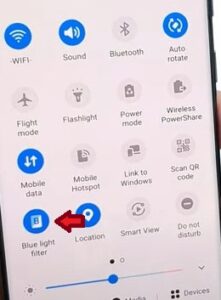 This option is free and comes installed on your phone; you only need to enable it from settings.
The steps below will help you quickly access the location of the blue light filter and turn it on.
How To Turn On Blue Light Filter On a Samsung Galaxy S22
Swipe down twice from the top of the screen to display options.

Tap and Hold the Blue light filter option.

Select Turn on now or Turn on as scheduled

Select your preference (sunset to sunrise or a specific custom time).

When the Blue light filter icon is blue it will be enabled.
Why Use the Samsung Galaxy S22 Blue Light Filter?
The blue light filter may not benefit everyone, but it has been shown to decrease the amount of blue light we are exposed to on our smartphone's display screen.
Some individuals notice a decrease in eye fatigue, flickering after staring at the screen for long periods, and better sleep quality. If you find that it is not realistic to take breaks from your phone, then the blue light filter is a nice option for you.
If you are not sure of when to turn on the blue light filter, it is recommended to do so in the evening as this provides your eyes time to relax. It is also recommended to turn on the sunset to sunrise feature to get the most out of the app.