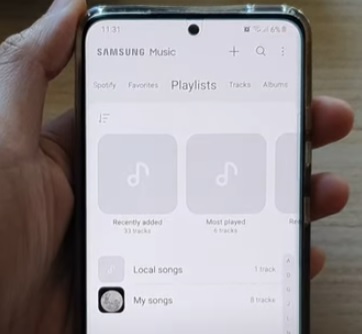 If you have a music playlist and want to import it into the Samsung Music app, it is quick and easy to do.
For Android 10, 11, and 12, users the playlist needs to be located in the same location the music is saved, or it may not be seen.
For example, If the music from the playlist is on SD-Card, the .m3u file must also be in SD-Card.
Likewise, If music is located in the Internal storage, the .m3u file should also be there.
Many Android 10, 11, and 12 users report the list not populating with the solution to move the .m3u files to the same storage the music is located at.
How to Import a Playlist to Samsung Music App
Open the Samsung Music app.

Select the More Button at the top right (Three Dots).

Select Settings.

Scroll down and select Import Playlist.

Select the Playlist.

Tap on Import at the top right.

Summary
Importing a music playlist to the Samsung Music app is easy to do in a few steps.

Exporting an M3U playlist from another source such as VLC media player can be done and imported into Samsung Music.

The option to export in VLC media player is Media –> Save Playlist to File, which will save the list of open songs.

Once created, copy the files created to your smartphone's internal or external storage.

After the files are copied, open the Samsung Music app and, using the steps above, import the playlist.

If the list does not populate and does not show the playlist, be sure the .m3u file is on the same storage as the music is located.

Android 10 and 11 changed the way the list was seen, with the older Android versions not having the issue.

It is usually not a big issue as Android 10, 11, and 12 work well with playlists; simply be sure to copy the files into the same storage location.

Many users have reported issues when the files are simply in the wrong place and need to be at the correct storage spot.

Have you had any issues importing a playlist into the Samsung Music app? Let us know your thought below.