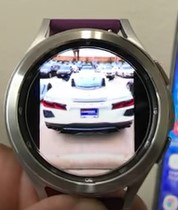 If you have a favorite photo and want to set it as a Galaxy Watch 3 or 4 background it is quick and easy to do.
Different background photos can also be selected from the photo gallery.
What Photos Can Be Used as a Background with a Galaxy Watch 3 or 4?
The Galaxy Watch 3 and 4 use standard picture formats such as JPEG and PNG formats.
A picture can be taken with a phone or the built-in Samsung photo gallery can also be used.
The photo will need to be on the smartphone that is paired to the Galaxy Watch 3 or 4.
How to Set a Picture as the Background on a Galaxy Watch 3 or 4 Using the Watch Setting
Swipe Down on Your Galaxy Watch Face.

Swipe from Right to Left.

Tap on the Cat photo or the Watch Face Picture.

Long Press on the Watch Face and select Customize.

Tap on Allow.

Tap on the Add Picture Icon

Tap on Add Photo

Tap on Add Images

Find the image wanted and click OK.
How to Set a Picture as the Background on a Galaxy Watch 3 or 4 Using the Wearable App
On the paired smartphone open the Galaxy Wearable App.

Tap on Watch Settings.

Tap on Manage Content.

Tap on Add Images.

Select the Picture wanted as the background.

Tap on Done.

Adding Images to Watch will Appear.

Tap on the Picture.

Tap OK.

Tap OK again.

Tap OK One More Time.
How Do I Set a Picture As My Wallpaper On My Samsung Watch 4?
You will need to have pictures on your smartphone in the Gallery App. You can add photos by opening your Galaxy Wearable App on your smartphone or by selecting and changing your watch face on your Galaxy Watch.
You will want to change the watch face to a real photo by using one provided in the Galaxy Store. Once you have applied the premade photo, you can easily edit and select a personal photo to add as your watch face.
It can sometimes take time before it recognized the real photo change on the watch face before allowing us to add a personal photo as the wallpaper. You can force a restart and see if it recognizes the change enabling you to change out your watch face to a photo faster.
Summary
Changing out your Galaxy Watch face to a personal photo adds a unique touch to your Watch. It's simple and free, once you have done it once you will be able to change the image as often as your like.
The simplest way is to use the already premade watch faces that use a real photo. This should already have come installed on your watch but if not a quick search in the Galaxy Store will have it installed on your watch in no time.