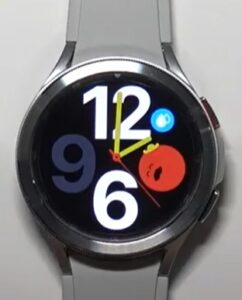 The Galaxy Watch 4 is a great Android smartwatch with many options and features built-in.
One such feature is Water Lock which helps protect the phone when submerged in water.
What is the Galaxy Watch 4 Water Lock Mode?
Water lock mode is a feature that stops the Galaxy Watch 4 from activating when submerged in water.
It also will prevent accidental touches of the display.
For example, if you are going for a swim turning on the option will stop the phone from turning on and help to protect it.
Going for a swim? Your smartwatch is always ready for a dip. Just make sure you turn on Water lock mode to prevent accidental touches on your screen. It will also prevent you from accidentally activating your watch with a wake-up gesture while you're swimming.
If you are going to be going to the pool with family and friends or working in the rain for prolonged periods, you will want to activate the water lock feature on your Samsung Galaxy Watch 4.
This prevents water from getting into your Galaxy Watch 4 when turned on and ejects water when turned off. Activating and deactivating this feature is simple and only requires a few steps.
Is the Samsung Galaxy Watch 4 Waterproof?
Yes, the Galaxy Watch 4 is rated 5ATM water and dust-resistant, which can come withstand splashes such as from rain or sitting poolside.
Better waterproofing can be done by enabling Water Lock mode, which stops the smartwatch from activating.
How to Turn On Water Lock on a Galaxy Watch 4
Swipe Down on Your Watch's Face.

Swipe Right to Left.

Tap on the Water Lock Icon (two droplets of water).

The Water Lock Icon will now Appear on Your Home Screen.
How to Turn Off Water Lock on a Galaxy Watch 4
Press and Hold the Home Key (Power Key).

Turning off Water lock will Appear.

Don't Press Any Buttons, Wait till Ejecting Water is Finished.

Once "Ejecting Water is Finished Water", Water Lock will be off.
Summary
The water lock feature available on your Samsung Galaxy Watch 4 allows you to continue to wear your watch when entering the pool, river, or ocean. If you are using this feature to exercise, it will automatically turn on when selected in the swimming menu.
If you have the lift to wake always on activated, these features will not be available when the water lock feature is turned on as well as the touch screen. This is a built-in safety feature to protect your watch. To reactivate these features, simply turn off the water lock.
You may also want to shake your Galaxy Watch 4 before turning off the water lock. This can help remove any excess water remaining on the surface of the watch.
If you have noticed that your speakers are not working as well when listening or talking using your watch after you have used it in water, you can try and play music or ringtone on your watch. You will want to turn the sound on your Galaxy Watch 4 all the way up to the max setting. This will hopefully clear any remaining water out of the speakers and microphone.
If you found the above tutorial helpful, please leave us a comment below, letting us know.