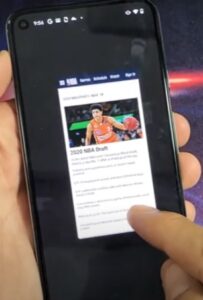 The Google Pixel 5 is a great Android smartphone, but you will have to figure out how to work it and all of its unique features.
The screenshot feature is something most of us use all the time, it is quick and easy and you can look at the screenshots you took later.
Being able to take a quick screenshot can be used for many reasons. I take them when I see something I like, an idea for work or vacation, new recipes, and more. Below are two simple steps you can use to take screenshots with Google Pixel 5.
If you have limited movement or problems with fine motor skills, pain, and stiffening in your hands and fingers, you can also use voice commands using your phone's Google Assistant to take screenshots just by saying it.
How To Take A Screenshot With A Google Pixel 5 Using Buttons
Press and Hold the power and volume down buttons at the same time.

The screen will flash briefly, which is the screenshot being taken.

The image can be edited or saved to the phone.
How To Take A Screenshot With A Google Pixel 5 Using the Screen
Swipe up from the bottom to a third of the way up.

Select Screenshot and the image will be saved.
Where On the Google Pixel 5 Are the Screenshots Located?
They are located in the phones library screenshot folder.
How to Find Screenshots
Select Photos

Your most recent pictures will appear when you open the photos folder, if you want to find older screenshots you will need to go to the Screenshot folder.


Select the back arrow

Select Library to find the screenshots folder.
Summary
You have three options to take a screenshot of the image on your display screen.
I recommend trying each one and finding what works best for you. If you are not able to take a screenshot using the side buttons, try and firmly press and hold power and volume up buttons.
The side button on each phone may be more and less sensitive because it is a new phone; it just might require a little more gusto when pressing holding the buttons.
You can also delete this if you no longer need them by going into your photos and selecting the screenshot you want to delete.
Please leave a comment below if you found this post helpful or if you found another way to take a screenshot using your Google Pixel 5.