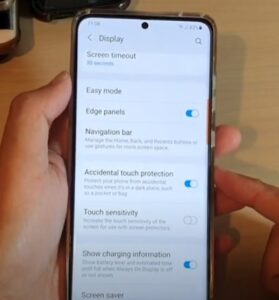 The Samsung Galaxy S21 has an option for accidental touch protection that helps stop pocket dialing.
It is meant to help protect the phone from automatically dialing a phone number, opening apps, or turning on other functions.
This can be useful when placed in a pocket, purse, or anytime it is being carried about.
A notification will display on the phone "Accidental Touch Protection: Your phone is being protected from accidental touches. Keep the top of your phone clear to prevent this from happening".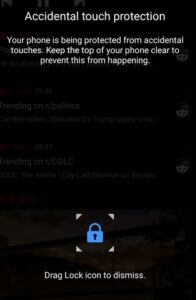 It can be a good option but sometimes can be too sensitive on some smartphones and can constantly go off.
If it becomes too sensitive and is always going off with an accidental touch protection notification, the option can be disabled and removed.
Likewise, it can also be turned back on and enabled.
How To Turn Off Accidental Touch Protection Samsung Galaxy S21
Swipe down from the top of the screen and Click Settings (Gear Icon).

Find and select Display.

Scroll down and find Accidental Touch Protection.

Swipe the blue bar to turn it on or off.
Summary
If you have a Samsung Galaxy S21 and it keeps giving the notification "accidental touch protection," it can be turned off quickly and easily.
Sometimes the sensor can become too sensitive and keep going off, which can be annoying.
Pitch black dark rooms can also set off the sensor, which will give the notification.
Some smartphone cases can be too close to the sensor and set it off. Removing the case for a short while to see if it goes away can test is this is the problem.
The option can be disabled if it is not needed but be sure to take care since it may pocket dial a phone number or access other apps in some scenarios.
Do you have a Samsung Galaxy S21 with an accidental touch protection problem? Let us know in the comments below.