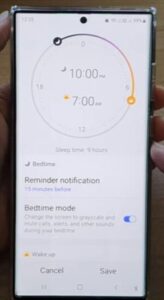 The Samsung Galaxy S22 has many notification options including an option to remind a user that it is bedtime.
What is the Bedtime Reminder Notification?
The bedtime reminder is an alert that can be set, so a user doesn't stay awake past a certain time.
This can be very useful to anyone who loses track of time and stays awake later than they should.
The option can be enabled or disabled at any time, along with different alerts.
It also has a snooze button that, when selected, will remind a user to go to sleep after 10 minutes.
The bedtime alert will notify the user when it is sleep time using four different modes.
The modes include no alert at bedtime, 5 minutes before bedtime, and 15 minutes before bedtime.
To turn off the notification, it would be set to the no alerts mode.
Below are the steps to quickly and easily turn off the bedtime reminder alerts.
How to Turn Off Bedtime Reminder Notification Galaxy S22
From the main menu, swipe up on the screen find and select the Clock app.

Select Reminder Notification.

A popup will display, Select No Alerts.

Select Save at the bottom of the screen.
Summary
If you have a popup reminder that it is bedtime, it can be disabled from settings.
The options will alert the user when a set time has come that it is time to go to sleep.
If you did not set the option, it can be easily disabled following the steps above.
It can always be enabled at a later time if you would like to use it again.
Many users find the option very useful, while others can find the option annoying.
For example, if you are up late watching a movie, the feature can be useful to know it is time to rest.
Likewise, if it goes off and is not useful to you but annoying, it can be disabled.
Have you had any issues with the Samsung Galaxy S22 and the Bedtime Reminder Notification? Let us know the problems below.