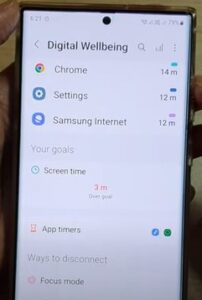 Setting your screen time usage on your Samsung Galaxy S22 is a simple feature that can be used to improve the time you spend on your phone.
This can be useful in many scenarios, from a reminder to take a break from your phone to limiting usage for someone else.
How to Change Screen Time Usage on a Galaxy S22
Swipe down from the top and select Settings (Gear Icon).

Select Digital Wellbeing and parental controls.

Select Goal Time.

Select Your Goals.

Set your Screen Time Goal.

The screen time usage can be set by minutes or hours.
Why Reduce Screen Time?
If you are trying to spend less of your personal time on your phone, you can do so by making small, simple changes that are achievable over time. Keep in mind you want to incorporate one change at a time over several weeks or months in order to be successful.
First, you will want to start by keeping track of your time. This will allow you to make changes to the current amount of time you are on your phone outside of work. Make your goals realistic and achievable when setting your screen time usage. You can always adjust the screen time used as you become more acclimated to using your phone less.
Second, set a no-phone time period. This may be during mealtime when exercising or an hour before going to sleep for the night. Find the time that works best for you and your family so that this becomes a part of your daily routine, making this more achievable.
Third, make a no phone zone. This can be the living room, bedroom, or even in the car. This can provide the opportunity to have meaningful conversations that may otherwise be ignored when our phone is distracting us.
Lastly, don't become complacent with boredom, as this will have you spending more time using your phone. Instead, find an activity you enjoy. It can be as simple as going for a walk outside, reading a book or magazine.
Start with the first step listed above to set and track your screen time usage, assisting you in making positive changes in your daily life.
Summary
Most of us spend too much time on our smartphones and not enough to enjoy the present moments of life. If you are trying to find a nice balance between the two, setting your screen time goals on your device can help. Changing the amount of time you spend on your smartphone is specific and unique to each individual's needs. If you want to be more productive and spend more time on goal-orientated tasks and less on useless games and social media, setting your screen time usage goal can be a valuable tool. It can also be used to prevent your child from spending too much time on their smartphone or a specific app. Regardless of the reason, this feature can add a nice balance to making positive and healthy lifestyle choices.
If after changing these settings you find that you are having to change your goal times more than you like, you can always delete these settings by following the steps above and tapping on the three vertical dots on the top right of your screen to change or delete the current goals. There are many positive benefits to using your smartphone but there are also negative ones as well if you overuse it. This app feature is to assist you in making positive choices when using your Samsung Galaxy S22 smartphone.
If you have made positive lifestyle changes using the screen time goals please leave us a comment below letting us know the impact it has made in your life.