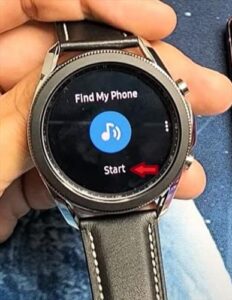 If you have a tendency to put your phone down and forget where you put it, you don't have to search blindly if you have a Galaxy Watch 3.
A Galaxy Watch 3 that is paired with your smartphone allows you to find the device.
The smartphone will ring and vibrate, which will allow you to locate it.
How to Find a Smartphone Using a Galaxy Watch 3
If not at the home screen already, Press the Home Key button.

Swipe Right to Left.

Find and select the Magnifying Glass Icon.

Tap on Start and the smartphone will ring and vibrate.
Why is my Samsung Watch Not Finding My Phone?
There could be a couple of reasons you are not able to locate your phone using your Samsung Galaxy Watch.
It could be that it has disconnected from your phone. If it is not paired or if your watch can't locate your phone, you won't be able to find it using your Samsung Galaxy Watch.
Make sure you have updated and installed software on your Samsung Galaxy Watch and the Galaxy Wearable app on your phone. When installed, try and see if you can find my phone.
It could also be an app that you recently downloaded that may be interfering with the connection between your Samsung Watch and your phone.
Try and uninstall any recent apps and try to locate your phone. You may want to power off and back on your watch after uninstalling the apps that may be causing the issue.
Summary
Finding your misplaced smartphone has never been easier using your Galaxy Watch 3. As long as you have paired your watch with your smartphone, you can find your phone by using the magnifying app on your watch to play music and locate your phone.
If you have misplaced your Galaxy Watch 3, you can use your smartphone to find your watch.
If you found the above tutorial helpful please leave us a comment below letting us know.