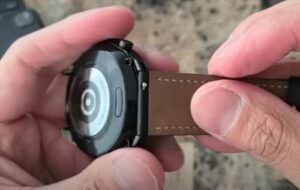 The Galaxy Watch 3 is a great Android smartwatch with many nice features.
The two bands or straps that come with the Watch 3 work well, but they can become worn and need to be replaced.
It is easy to replace the Watch 3 bands by first finding a good replacement and then changing it out on the unit.
How Do I Replace the Band on a Samsung Galaxy Watch 3?
At the back of the Watch 3, located on the band, is a small pin that moves inward.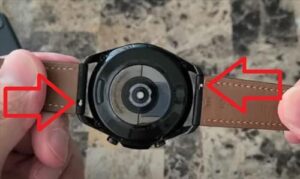 Each side of the band has pins that go into the watch, with one movable and one unmovable.
When the movable pin is pushed inward, the band will come out.
A new band can be inserted by pushing the pin in, aligning the side pins, and letting go of the movable pin.
The pins are small to work with, but it is a straightforward task to replace the bands.
How to Change and Replace the Band Straps on Galaxy Watch 3
Turn to the back of the Watch 3.

On each band close to the watch is a small pin.

Slide the small pin inward, and the band will come out.

Take the new band and first insert the non-moveable pin into the watch 3.

Slide the movable pin inward and insert it into the watch 3.

The new band should now be in place.
What Size Band Does a Galaxy Watch 3 Use?
The 41mm Galaxy Watch 3 uses the 20mm band.
The 45mm Galaxy Watch 3 uses the 22mm band.
The Galaxy Watch 3 has two different-sized watches called 41mm and 45mm units.
Find the size of the watch you have bought, and it can be matched to the band size.
The band can also be measured using a small tape measure with millimeters.
Summary
The Watch 3 is a very nice smartwatch that will give many years of use.
The straps or bands on the unit will likely be bad long before the watch fails.
Replacing the band is quick and easy, although the components are small
A pin on the band will push inward, which will allow the strap to be removed.
The small pin usually is easy to push inward, but if it is difficult, a small screwdriver or similar can be used to push it inward.
Removing a smart watch band is usually an easy task unless the band has been damaged.
Have you had any issues removing the Samsung Galaxy Watch 3 bands? Let us know in the comments below.