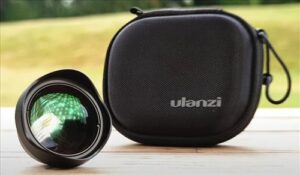 The Galaxy S22 has a phenomenal camera, but your images and videos can still be enhanced by using an additional camera lens without spending an astronomical price.
There are many low-cost lenses that can take great videos and still shots.
You will want to keep in mind what you want to use the camera for, as your preference and requirements needed in the lens will be different for each individual.
There are also some great alternative camera apps to improve your picture quality.
All of the lenses listed below are a great addition to a Samsung Galaxy S22, regardless if you are just beginning or have years of experience in photography.
*This website uses affiliate links, and as an Amazon Associate, we earn from qualifying purchases at no cost to you.
Our Picks for Best Camera Lens for Galaxy S22
ULANZI 1.55XT Anamorphic Lens

Pros

A Great Mix of Price and Quality
Easy to Use
Great Video Quality
Takes Great Still Shots
Light Weight

Cons

Lens Moves Easily
Poor Instructions
Addition Software Cost

The Ulanzi Anamorphic Lens offers sharp images with its blue flaring lens. The lens flare works great in low light, providing big-screen lighting effects as seen in the movies.

When editing we recommend you use app editing desktop software. It will make de-squeezing the image easier and produces a more professional-grade image.

We rated this a top pick since it has a great price, beginner-friendly, has a wide selection of compatible accessories, and provides professional quality still shots and videos.

Xenvo Pro Lens Kit

Pros

A Great Mix of Price and Quality
Easy to Use and Extremely
Durable
High Quality Glass
Life Time Warranty
Video Instructions

Cons

Customer Service
May Need to Remove Protective Case

The Xenvo Pro Lens offers macro and wide-angle lenses depending on your needs.

You will most likely be using the macro lens with your Galaxy S22 as it offers a more detailed focused picture without appearing blurry.

It has a sturdy aluminum frame and crystal clear optical glass.

Great for indoor and outdoor scenery, especially in dark areas with low, medium, and high brightness settings available.

Click Beastgrip x Kenko Pro Series

Pros

Crystal Clear Images
Easy to Use
Accessory Compatible
Quality Customer Service
Extremely Durable

This lens offers wide clear pictures and videos, with no distortion noted. It is made with an aluminum body and a glass lens.

Offers high resolution with 4K video abilities.

With the 58mm threading, you can attach filters or additional accessories to the lenses, adding to the versatility of the BeastGrip lens.

Best used in default camera mode to prevent distortion of images.

We listed it as number three only due to the price, it is one of the more expensive lenses but worth every penny.

If you are looking for a camera mount that can be used with a tripod, camera rig, or hand-held see the universal Beastgrip Pro to enhance your video and photography needs.

KEYWING Phone Camera Lens 3 in 1

Pros

A Great Mix of Price and Quality
Easy to Use
It Comes with Three Lens
Lens Stays in Place with Clip

Cons

May Need to Remove Protective Case
Poor Instructions

The Keywing phone camera comes with three different lenses. These include the 20x Macro, 120-degree Wide Angle, and 198-degree Fisheye Lens, allowing you to capture bigger and stronger images.

It is made with aluminum and optical glass, decreasing the risk of reflection and enhancing the clarity of the image.

The clip has a rubber pad built into the base to prevent any scratches or cosmetic damage to your phone.

Easy to capture the vintage look and classic looks using high definition for added visual detail.

If you are having issues with the clip fitting, make sure you are first screwing the lens into the provided clip.

MIAO LAB 2022

Pros

A Great Mix of Price and Quality
Easy to Use
Seven Lenses
Travel Case
Stackable

Cons

May Need to Remove Protective Case
No Lens Cap

These filters (Yellow, Red, Blue, Orange, CPL, ND32, and Star Filters) increase and decrease brightness to enhance the image by altering the lighting density.

It can be used in capturing both still images and moving images.

It can be used on both your Galaxy S22 as well as other smartphones.

You can experiment with the lens and stack them for different visual effects.

If you are getting extra light in, you can place padding around the opening to seal it.
Summary
There are many good options for Camera Lens when using the Samsung Galaxy S22.
Before purchasing any device, you will want to read additional reviews offered by the seller, as every review can give you insight into the device.
Remember, as, with any new device, it can take a little time to become familiar with your new equipment. Make sure you are applying the lens to the correct camera on your Galaxy S22, or your image may be blurry or distorted. You should be using your phone's main camera with the lens.
Adding a lens to your phone's camera can increase not only the quality of the image or video but also your experience when using it.
Just remember each user's experience is based on the type of phone being used and overall experience with the camera lens.
The Samsung Galaxy S22 does not offer very many third-party lenses, but with a little creativity and patience, these lenses can go a long way in improving your pictures and videos.
As with anything you buy, there may be hardware issues with the product; make sure you contact customer service to correct the issue.
Do you have a favorite camera lens you currently use? Leave us a comment below, letting us know.
*The owner of this website, androidyii.com is a participant in the Amazon Services LLC Associates Program, an affiliate advertising program designed to provide a means for sites to earn advertising fees by advertising and linking androidyii.com to Amazon properties.