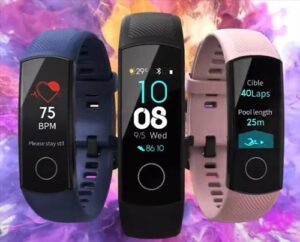 If you are looking for an Android smartwatch when working out, you don't have to spend a lot of money.
There are many budget-friendly Android smartwatches that offer many of the same features as the more expensive ones.
Are Budget-Friendly Android Smartwatches any Good?
Yes, you can find quality smartwatches that have comparable tracking features to the higher-end ones.
Often low-cost budget smartwatches have the same features as top-end models from 1-2 years ago.
There are many good units with our favorite picks below.
*This website uses affiliate links, and as an Amazon Associate, I earn from qualifying purchases at no cost to you.
Our Picks for Best Android Smartwatches Under $50 for Working Out
Xiaomi Mi Band 5

The Xiaomi Mi Band 5 is great value for the money. It is supported by both Android 5.0 and later and iOS 10 and later.

It offers eleven different professional fitness modes depending on your preferred workout method, such as swimming, treadmill, outdoor running, indoor and outdoor cycling, yoga, elliptical, walking, rowing, jump roping, and freestyle.

It has 12 different data tracking on distance, how many calories burned, your activity to include steps taken, sleep monitoring activity (rapid eye movement and stages), stress/anxiety, your personal/individual activity intelligence, and heart rate with vibration alert when too high. For women, it offers menstruation cycle data and phases of ovulation so you can keep up with your women's health concerns.

It has an amazing battery life depending on how much it is used, with an average of 14 days with regular usage. If you use it in power-saving mode, it can last up to 20 days, but you will need to disable many of the tracking features. The recharge time is two hours if you run the battery down using the magnetic charging cable. It comes with a two-year warranty and offers dustproof and waterproofing up to 164 feet. It can tolerate temperatures as low as 32 degrees Fahrenheit and as high as 113 degrees Fahrenheit.

You can set personal goals and reminders, helping you increase activity, sleep, and decrease stress and anxiety with breathing training.

The watch can be paired with your phone using Bluetooth, allowing you to review data through the app Google fit or Mi fit. You can mute or reject phone calls but will need your phone to communicate. If you are searching for a smartwatch that is an extension of your smartphone, you will need to spend a lot more money but if you want the fitness tracker at a bargain price, give this one a try.

Amazfit Band 5

If you love Amazon's Alexa, then you will; this is the under 50-dollar smartwatch for you.

The Amazfit Band 5 comes with Amazon Alexa built-in, so you can ask her questions and get a response on your watch's display screen. It is supported by Android 5.0 and above and iOS 10 and above.

It provides tracking of your heart rate, workouts, sleep quality, and stress level and recommends breathing exercises. Your personal/individual activity intelligence takes your daily health data from the watch and scores your personal health status so you can improve your health.

It has 11 sports modes such as walking, running, biking, treadmill, swimming, cycling, elliptical, jump roping, rowing, and yoga.

It also keeps track of your menstrual cycle and ovulation, reminding you before starting. You can measure and monitor your daily oxygen saturation, find your smartphone, set alarms, and move reminders.

The battery life averages 15 days again, depending on use, and up to 25 days in power-saving mode. It is water-resistant, allowing you to swim and shower with it on. You can customize the face plate with over 50 different varieties to choose from.

Wyze Band Activity Tracker 4


Available here on Amazon

Wyze Band Tracker has a built-in Alexa allowing for communication through other smart devices that have Alexa, WYZE, and other smart home products. It cannot talk back like your other Alexa devices but will display what you ask on the watch's display screen. It is supported by both Android 7.0 and above and iOS 12.0 and above. You can track your step count, run mode, heart rate, and sleep quality.

The watch can set alarms, move reminders when sedentary, and help you find your phone and band. It provides notifications such as text messages, phone calls, and social media accounts.

The battery life of up to 14 days depending on use, with an average of 10 days. It is water-resistant, so you can shower and swim with it on, but it should not be kept submerged in water.

This watch can be customized by changing the face plate with any picture or image you like.

Honor Band 5


Available here on Amazon.

The Honor Band 5 is similar to the other smartwatches listed, it can track sleep, steps, walking, running, heart rate, calories burned, oxygen saturation, and vibration alarm. It is supported by Android 5.0 and above. Battery life is around four days depending on use and charges fast depending on how low your battery is.

Provides tips to improve sleep, fitness, and healthy lifestyle changes as well as warnings of abnormal heart rate. You can get notifications for incoming calls and texts but will need your phone to answer them. You can also locate your misplaced or lost phone with this watch.
It is water-resistant up to 0.5 inches in depth so you can swim and show with it.

You will need to have the Huawei Health App installed on your phone to make changes and set watch to your specific needs.

Letscom ID205L Smartwatch

The Letscom Fitness tracker smartwatch looks a lot like the Fitbit Versa but for a fraction of the price. It has a nice display screen at 1.3 inches, making it easy to read.

It is supported by both Android OS 6.0 and above and iOS 11.0 and above.

It offers different tracking metrics using sports modes, including treadmill, running, walking, biking, spinning, hiking, climbing, and yoga.

It has several tracking features so you can track calories, distance, running, sleeping, and real-time heart rate. These features can help you modify your lifestyle and daily activities. It also offers meditation and breathing exercises to decrease stress and anxiety.

It has a decent battery life of 10 to 11 days, depending on the use. It charges 100% in two and a half hours. It works in temperatures as cold as 14 degrees Fahrenheit and as hot as 104 degrees Fahrenheit.

It also offers useful features such as notifications for incoming phone calls, third-party message apps, reminders to move if inactive for some time, and set up individual alarms. You can send and share data to your smartphone's health app.
Summary
Before purchasing a smartwatch, you will want to make a list of required features that it must have and those that it doesn't need to have. Are you using the watch to improve your overall health and track health activities like heart rate, oxygen saturation, and sleep? The less expensive watches may not be as sensitive or as accurate as the higher-end watches. Once you have that list, you can start to shop around, depending on your budget range.
Do you currently use a smartwatch fitness tracker that costs less than 50 dollars? Leave us a comment below, letting us know which one you prefer.
*The owner of this website, androidyii.com is a participant in the Amazon Services LLC Associates Program, an affiliate advertising program designed to provide a means for sites to earn advertising fees by advertising and linking androidyii.com to Amazon properties.