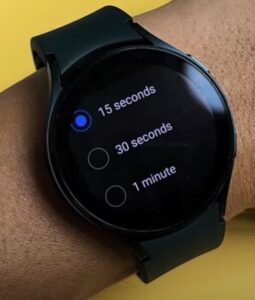 If you have a Galaxy Watch 5 and would like to have the display screen turned off automatically, it is quick and easy to do.
The Timeout option can be set using the watch or the app on a smartphone.
Why Set the Galaxy Watch 5 Screen Timeout?
The most common reason is to to extend the battery life.
When you select a time for your watch's screen to time out, it doesn't have to wait for inactivity to turn off the display screen.
It also prevents accidental opening or use of an app that could drain your battery further.
This can help extend the life of your battery, preventing you from having to charge your watch more frequently.
How to Change Screen Timeout on Galaxy Watch 5
Swipe Down on the Face of Watch.

Tap on Settings (Gear Icon).

Find the Display Icon and Tap on it.

Tap on Screen Timeout.

Select Screen Timeout preference.

After selecting the option, the Screen Timeout will be set.
Why Won't my Galaxy Watch 5 Stay On?
If you want the Galaxy Watch 5 to stay on, set the Timeout preference to a longer time period.
For example, if it is set to 15 seconds, changing it to 2 minutes will give leave the screen on for a longer time.
The option can also be disabled if the screen needs to be on all the time without ever turning off.
Summary
Managing the Samsung Galaxy Watch 5 screen timeout option is a great way to extend your watch's battery life and use.
When you set up the screen timeout feature on your Watch 5, it does not prevent you from using it as your normally would.
It allows your watch to go into rest/sleep mode, preventing overheating and extending the longevity of the watch.
When you need to use your watch, you simply raise your wrist to wake up or touch the screen to wake up.
Have you had any issues with the Galaxy Watch 5 screen timeout feature? Let us know in the comments below.