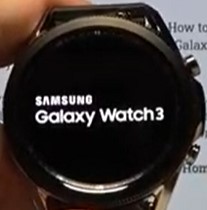 If you are having issues with your Samsung Galaxy Watch 3 running slow, freezing, won't turn on or you can't remember the password then a hard reset may fix your problem.
If you are wanting to trade, sell or give your watch away, you will want to wipe it clean with a factory reset so none of your information such as pictures, payment information, emails, text messages, and phone numbers can be viewed by the new owner.
If you have important data on the Galaxy Watch 3 be sure you have saved or backed it up,
A factory reset will permanently erase all user data. It is recommended you save all files and data every day using autosave in case of situations in which you need to factory reset or lose your watch.
If you need assistance in saving data, see here for How To Backup Data on a Samsung Galaxy Watch 3.
How to Hard Factory Reset a Samsung Galaxy Watch 3
Press and hold the back and home button at the same time.

Continue to hold till you see the rebooting screen and then release.

Use the home button by pressing it, and select Recovery.

Press and hold the home button to confirm.

Release once the Samsung Galaxy Watch 3 appears.

Resetting will appear.

The Samsung Galaxy Watch 3 logo will appear and the reset should be complete.
Summary
Factory Resetting a Galaxy Watch 3 is quick and easy to do.
Resetting the smartwatch will erase all the settings and have it back in the same state as when first bought.
This is a good option when selling the watch or giving it away.
It is also can be helpful when the watch has errors and can help solve some issues.
Have you had to force a factory reset a Galaxy Watch 3? Let us know your thoughts below.