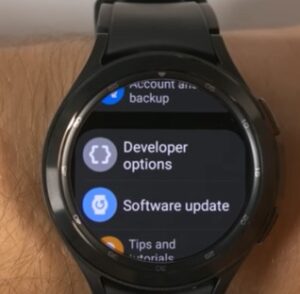 The Samsung Galaxy Watch 5, like many Android devices, has Developer Options with many hidden features.
It is easy to enable by tapping on the build number five times.
What is the Galaxy Watch 5 Developer Mode Options?
When enabled, Developer Options has many different features that can also be enabled or disabled.
Often the features can be buggy or not work well with all apps, so they are hidden within the Developer Options menu.
Features include vibrating on connectivity charge, turning on WiFi automatically when charging, ADB debugging, and more.
You will want to be careful not to change settings you aren't familiar with, as it may affect your Galaxy watch's performance.
If you find you don't like the setting you turned on, you can go back into developer mode and turn them back off, but you will want to remember which ones you enabled.
How to Enable Developer Mode on a Galaxy Watch 5
Select Settings (Gear Icon).

Scroll to the bottom and tap About watch.

Scroll down and tap Software.

Tap on Software Version five times.

Developer mode turned will turn on.

Go back to setting and tap on Developer Options.
Summary
Accessing developer options on your Samsung Galaxy Watch 5 is simple and can be turned on and off whenever you like. To turn off developer mode is just as easy to turn on, but there is no harm to your watch leaving it on.
If you are searching for your device to change certain features on your Galaxy Watch, it might be a good idea to look under the developer mode options. There are several different features that you won't be able to access unless you enable this feature.
It is best not to turn on features that you don't understand what it is used for, as this can change how your watch face displays pictures and information and operates.
Have you had any issues enabling developer options on a Galaxy Watch 5? Let us know in the comments below.