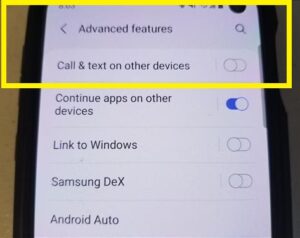 Samsung has a nice feature built into new smartphones, tablets, and smartwatches that allow other devices to answer calls and text.
The cell plan can be used with other devices and connected to it for calling and texting.
This is very handy in many scenarios and makes for ease of use across Samsung Android devices.
The feature to enable is called "Call and Text On Other Devices" and can be enabled in Settings Advanced Options.
Samsung Device Compatibility
Not all cell phone carriers allow for this option.
The Samsung website states that Verizon and AT&T do not allow for "Call and Text On Other Devices".
A Samsung account will be needed along with signing into the account on both devices to be used.
After the feature is enabled, and you are signed in to a Samsung account on both devices, they will start sharing phone calls and text messages.
Samsung Galaxy Compatible Devices
Galaxy S10e, S10, S10+, S10 5G, S9, and S9+
Galaxy S20 FE, S20 5G, S20+ 5G, and S20 Ultra 5G
Galaxy S21, S21+, and S21 Ultra,
Galaxy A20, A50, A32 5G, A42 5G, A52 5G
Galaxy Z Fold, Z Flip, and Z Fold2
Galaxy Note 20 5G, Note20 Ultra 5G Note10, Note10+, Note10+ 5G, and Note9
Galaxy Tab Tab A (2020), Tab S7, Tab S6, Tab S6 lite, Tab S5e, and Tab S4
How To Enable Call and Text On Other Devices with a Samsung Galaxy Smartphone
Go to Settings

Select Advanced Features

Turn On for Call and Text On Other Devices

Agree to the Privacy Policy
Scroll down to the bottom and click on a Linked device
What is Samsung Call and Text On Other Devices?
The option allows you to make and receive calls as well as text across compatible Samsung equipment.
For example, you can answer calls on a Samsung tablet that is directed through a connected smartphone.
Text can also be sent and received on a connected device.
Any compatible device signed into the same Samsung Account can share calls and text.
How Do I Turn Off Calls and Texts On Other Devices?
If you are receiving calls and text on one of your other devices, it can be turned off from Settings–> Advanced Features.
The option will have a slide bar that will turn it on or off.
How Does Samsung Call and Text On Other Devices Work?
Once the option is enabled on two devices and both are signed in to the same account, they can share calling and texting.
The feature works over Wi-Fi, so be sure all the devices are using the same Wi-Fi network and wireless band.
Many routers are dual-band 2.4GHz and 5GHz units, so be sure any shared units are on the same band, or the feature will not work.
Can You Make Calls and Text on a Tablet?
It depends on the type of tablet you have, if it is included in your data plan and if it can connect to a Wi-Fi network. The answer is yes, you can as most tablets can connect to your wireless network, making it possible to make voice calls, and send text messages, and video calls to family and friends. If you have a data plan with your tablet included you can use your hotspots or cellular data when no Wi-Fi network is available.
If you don't have a data plan no worries, just connect to any Wi-Fi network. Most of the establishments you frequent offer free Wi-Fi at no charge. You can also use your phone's hotspot to connect to your tablet, allowing calls and texts to be sent.
Summary
The "Call and Text On Other Devices" option is very handy for anyone wanting to share calls and text across multiple devices.
It is quick and easy to set up and use, with the option enabled and a Samsung Account.
Be sure both devices are on the same network since the technology works over Wi-Fi.
If your smartphone does not have the option, your cellphone carrier may have removed the feature.
Have you used "Samsung Call and Text On Other Devices"? Let us know your thoughts below.