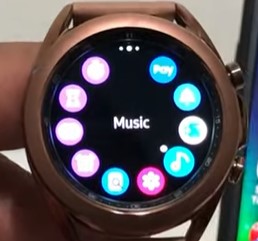 Playing Music on your Samsung Galaxy Watch 3 makes it easy to complete household chores, yard work, exercise, etc. without having to carry your phone or an extra Bluetooth speaker around.
How to Add Music to a Galaxy Watch 3
Press the Home Button

Swipe Right to Left

Tap on Music

Tap on the Phone Icon

Watch Icon Should be Seen

Pre-Installed Music is Available Only

Open the Galaxy Wearable App on your Phone

Tap on Your Watch

Tap on Add Tracks

Select Music and Tap on Done

Wait for Download to Complete

Track Added to Watch will Appear when Complete

Music Added to Your Galaxy Watch 3 Complete
Summary
Being able to play music, and keep your hands free while completing activities is available on your Samsung Galaxy Watch 3. You will want to keep in mind that you have limited space available to download and store data on your Galaxy Watch 3. We recommend you uninstall any apps that you no longer use such as watch faces, podcasts, music, etc. This will allow you to continue to install apps without maxing out your storage. The Galaxy Watch 3 does have 8GB of memory, which fills up fast when you start customizing and adding to your watch.
You can also use the dial on your watch to search through your apps if your watch face is damaged.
If you enjoy listening to music with a loud bass or volume, we recommend you connect your Galaxy Watch 3 to headphones or earbuds for a better quality sound. You can still play music and change out albums with your watch leaving your phone to charge.
There has been a recent complaint with low sound when using the Galaxy Watch 3 speakers, remember to turn up the volume on your Galaxy Watch 3. This can also fix issues with sound when connecting other devices via Bluetooth.
If you found the above tutorial helpful please leave us a comment below letting us know.