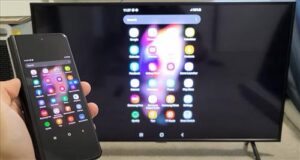 Wirelessly Screen Mirroring your Galaxy Z Fold 3 to your smart TV is a great way to share your photos, and videos, attend remote conferences, and complete work projects. Depending on the size of your TV screen, this gives you a nice large work surface.
*This website used affiliate links, and as an Amazon Associate, we earn from qualifying purchases at no cost to you.
How to Wireless Screen Mirror a Galaxy Z Fold 3
Swipe Down on Home Screen

Swipe Down Again

Tap on Smart View

Tap on the TV you want to Connect to

Tap on Start Now

Screen Mirroring is Complete

Tap on the Blue Screen Mirror Icon to Close App
Summary
Screen mirroring is a nice feature that allows you to enlarge your phone using your smart TV so you can share content with family and friends. It also is helpful when completing work or school projects at home, as you can use the split screen feature on your Z Fold 3 and essentially have two monitors to multitask and complete more than one project at a time.
This does not require a Wi-Fi connection, allowing you to work off-line on projects and save the document for later and upload when a connection to the internet is established.
It is also a great way to play games when you can't take the gaming console with you. Most hotels or Airbnbs have smart TVs that you can connect to your Samsung Galaxy Z Fold 3 smartphone. If you are RV camping, this is also useful. As long as you have a smart TV you can essentially use screen mirroring anywhere. Your kids big and small will enjoy using this to play their favorite game.
If you are finding that it is freezing or locking up on you when using the wireless connection, you can use a USB C to HDMI-compatible cable to connect your phone to your TV. See here for an example of USB-C to HDMI cable on Amazon (As an Amazon Associate we earn from Qualifying Purchases). Olixar USB C to HDMI Adapter 4K @ 60Hz Adapter or JSAUX 4K @ 30Hz USB Type-C to HDMI Female Adapter.
If you found the above tutorial helpful or have a favorite use for Mirroring your Samsung Galaxy Z Fold 3 please leave us a comment below letting us know.
*The owner of this website, androidyii.com is a participant in the Amazon Services LLC Associates Program, an affiliate advertising program designed to provide a means for sites to earn advertising fees by advertising and linking androidyii.com to Amazon properties.