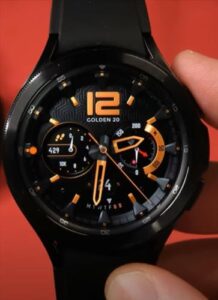 If you would like to change your Samsung Galaxy Watch 4 face it is quick and easy to do.
You can choose between thousands of new watch faces by going into your wearable app on your smartphone.
The watch faces vary from simplistic to very detailed, with multiple graphics.
How to Install New Watch Face to a Galaxy Watch 4
Find and select the Galaxy Wearable app

Tap on Watch Faces

Select New Watch Face

Tap on Allow and install

Select the new watch face to install

Tap on Download Watch Face
How Do I Download New Faces on a Galaxy 4 Watch?
You can download new faces by opening your Galaxy wearable app and selecting one of the featured clock faces under the different categories such as Graphical, Informative, Simple, Health, and Basic.
You can also access the Google Play Store app via your Galaxy Watch, Android Phone, or Computer and add new watch faces. You will need to link a Google account to your watch to access the watch faces. You will need your phone or computer to do this.
If you use your Galaxy Watch to select a new watch face in the Google Play Store, it is more difficult to view the different watch faces as it is a small image. You will need to download the watch faces, usually, more than one watch face is available in the download, and swipe through to find which one you would like to use.
Summary
Changing out your Galaxy Watch 4 face can enhance the watch's use. Many of the watch faces available have additional features to help make everyday use simpler. If you searched through your phone's watch faces and still can't find the one that fits your needs, you can add even more by going to the google play store and getting more watch faces added to your collection.
We recommend you have a couple of watch faces that you like to use downloaded in your gallery. Some watch faces may no longer be available or need to be updated making them unwearable.
Have you had any issues installing a new watch face on a Galaxy Watch 4? Let us know in the comments below.