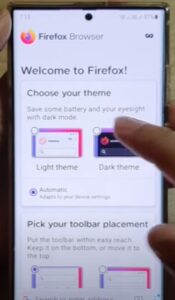 The Samsung Galaxy S22 comes with the default Google Chrome web browser installed, but other browsers can also be installed.
There are many other browsers other than Chrome, with the most popular including Opera, Firefox, DuckDuckGo, Vivaldi, Brave, Edge, and more.
Firefox is one of the top most popular web browsers for Android and is often the go-to app many people use.
It has many good features, such as many plugin extensions that can add a lot of functionality.
Below are the steps to download and install the Firefox Browser n a Galaxy S22.
You will need to be using the Google Play Store, which requires a Google Gmail email address to use.
How to Install Firefox Internet Browser Galaxy S22
Find and select the Google Play Store App.

At the top, type in Firefox and select it.

Select Install.

The Firefox app will download and install.

After it has been installed, you can select open or close the Google Play Store.
How Do I Download Firefox on My Samsung Galaxy S22 Phone?
The download is available from the Google Play store.
To use the Google Play store, a Gmail email address and password are needed.
A Gmail account is quick and easy to create and can be used just to download apps for the Play Store.
Can I Install Mozilla Firefox on a Galaxy S22?
Yes, the Firefox web browser can be downloaded and installed on a Galaxy S22 smartphone.
Is Firefox Safe for the Galaxy S22 Phone?
Yes, Firefox is a safe internet browser that works very well with the Galaxy S22.
Summary
The Samsung Galaxy S22 is a nice Android smartphone that can be customized to fit the user.
One way to customize the phone is to install another browser besides Chrome.
Firefox is one of the top browsers used on Android smartphones and works very well.
One of the nice features of Firefox is the many plugins that can extend built-in options.
For example, there is a plugin that can be added to Firefox that allows for YouTube videos to be downloaded and saved.
This can be very helpful in many scenarios when the same video is watched over and over, and instead of using up cell minutes, it can be downloaded to the phone.
This is only one example of many other things that can be done.
Do you have any favorite Firefox features? Let us know in the comments below.