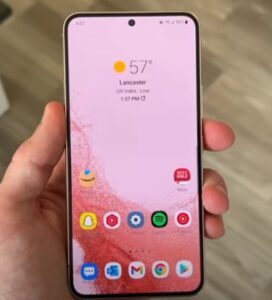 The Samsung Galaxy S22 is a great Android smartphone that works very well in a vehicle when the correct mount is installed.
It can pair with a vehicle's speakers for hands-free calling and be used for navigation.
There are many benefits to having a good smartphone mount that fits the phone.
Below are our picks for the best Samsung Galaxy S22, S22 Plus, and S22 Ultra car wireless charging mounts.
If you have a good unit, let us know in the comments below.
*This website uses affiliate links and as an Amazon Associate we earn from qualifying purchases at no cost to you.
Our Picks for Best Galaxy S22 Car Wireless Charging Mounts
ZeeHoo ZCF30

Pros

Auto-Clamping
Suction cup or vent mount

Cons

May not charge if phone case is very thick

The ZeeHoo ZCF30 is a dual coil wireless charger that has a rated 15W capacity.

It can hold and charge a variety of smartphones, from the Galaxy S21 to the Galaxy S22.

It has 15W Dual Coils for Fast Charging and Auto-Clamping

The base mounts on an air vent and is adjusted to match the driver accessibility.

The ZeeHoo ZCF30 is a good wireless charger for a smartphone and a good mount for almost any car.

Andobil Wireless Car Charger

Pros

Compatible with multiple Android smartphones including the Galaxy S22
Auto-Clamping

Cons

Cost more compared to other units

The Andobil is a wireless car charger mount that automatically clamps onto the smartphone.

It has built-in sensors that will detect when a phone is inserted and clamps onto it.

The base can be attached with a suction cup or vent mount clamp.

The Andobil is a very nice wireless charger for Android smartphones but does cost more compared to other units.

DearHot

Pros

15 Watt Qi Wireless Car Charger
Auto Clamp

Cons

Suction mount only (No vent mount)

The DearHot is a 15W Qi wireless car mount that is compatible with many types of smartphones, including the Galaxy S22.

The base can be mounted on a vent or with a suction cup to get the best location.

It also ad 360-degree rotation, and the arm can be adjusted up and down to get the best angle for the driver.
What Makes a Good Galaxy S22 Car Wireless Charging Mount?
The Galaxy S22 has built-in wireless charging that makes it ideal for a car mount that charges the battery wirelessly.
The phone uses the Qi standard, which is widely used by most top-end Android smartphones.
The Galaxy S22 supports charging speed up to 15W, which is a good speed, but like all wireless charging not as fast as using a wired charger.
All three phones, Samsung Galaxy S22, S22 Plus, and S22 Ultra, also include reverse wireless charging, which Samsung calls PowerShare.
The PowerShare feature can give a charge to other compatible devices.
The Galaxy S22 is a very good Android smartphone for wireless charging and can be used in combination with a car mount when driving.
Summary
Getting a good car wireless charging mount for the Galaxy S22 is easy to do with many available.
A unit can be bought with a base that mounts on a vent or uses a suction cup.
A good mount can go a long way in making a drive better, including calls and navigation.
Like most Android smartphones it can be charged with a cable or wireless with the right charger.
Wireless charging is an added bonus since no cables need to be connected to the smartphone when it is attached to the mount.
Do you have a good wireless charger car mount that works with the Samsung Galaxy S22? Let us know below in the comments below.
*The owner of this website, androidyii.com is a participant in the Amazon Services LLC Associates Program, an affiliate advertising program designed to provide a means for sites to earn advertising fees by advertising and linking androidyii.com to Amazon properties.